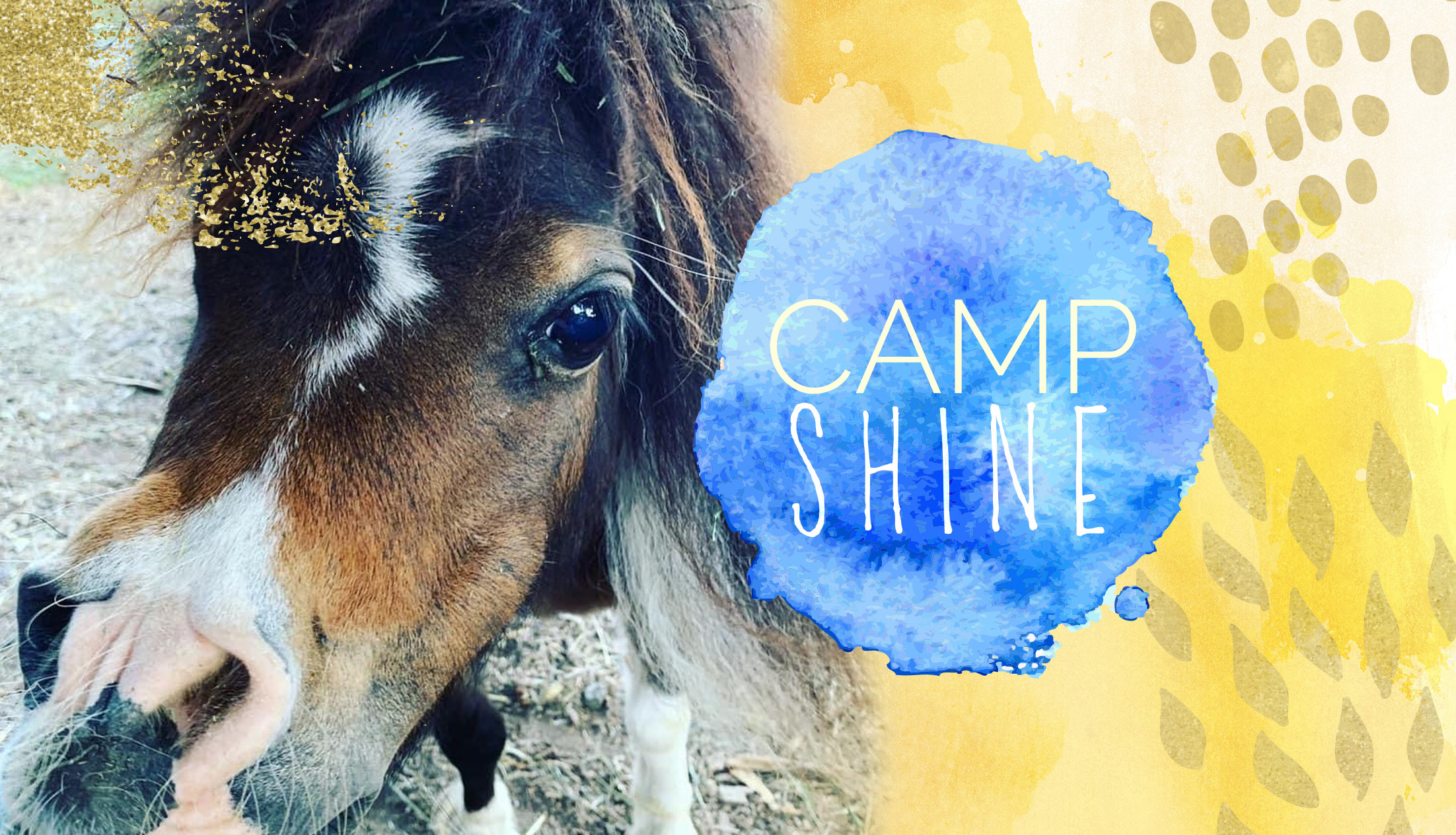 Welcome to CAMP SHINE!
Camp SHINE is a FUN nature inspired youth empowerment program! We are a mind, body, spirit retreat for kids located in the beautiful and abundant hills of the East Bay.

Our mission is to reconnect children with nature and to love one another and especially themselves! We provide experiences, community, and an environment for kids to SHINE as they were born to do!

Mia had a wonderful time at Camp Shine and can't wait to go again! Stephanie and Lauren are very caring and warm leaders and their messages of self-love come at a perfect time. Camp Shine is all about love, joy and friends — what we value most! Thank you

CAMP SHINE at a Glance:
(The program includes but is not limited to…)
• Farm animals, collecting eggs, grooming mini ponies, feeding the animals, and getting dirty with life on the farm.
• Learning about herbs and plants as medicine.
• Biodiverse gardening + the art of growing our own food.
• Apple picking and harvesting.
• Horseback riding, learning to be confident and calm leaders.
• Hiking and exploring
• Taking a dip in the pool to cool off and enjoy one another's company.
• Art + self-expression with nature-based good quality art material.
• Games and so much more!
All while enjoying the great outdoors, we will be weaving in the SHINE Curriculum, learning practical tools for resiliency, emotional intelligence, the power in our choices and discovering how to listen to our own inner voice.
The Farm Life
Located in the hills of Martinez, CA, we enjoy the farm life with chickens, mini ponies, horses, and a bunny! It is not uncommon for the children to enjoy art or chat with a chicken tucked under their arm. We collect eggs, groom ponies, and feed the animals. The children LOVE spending time on the farm!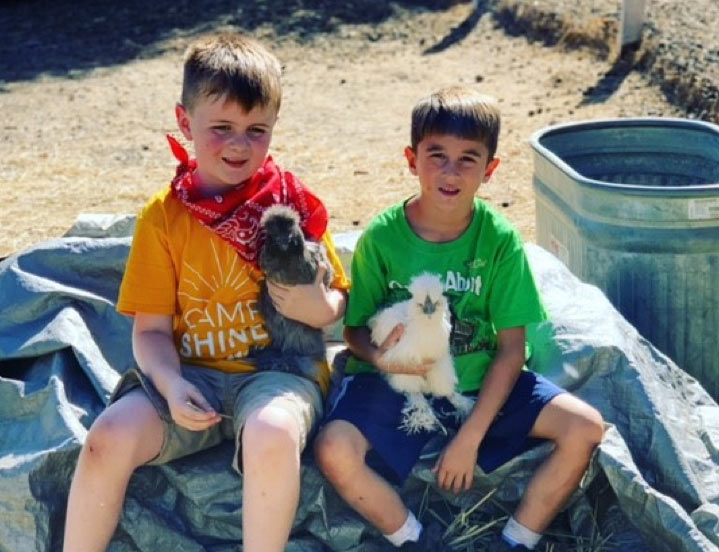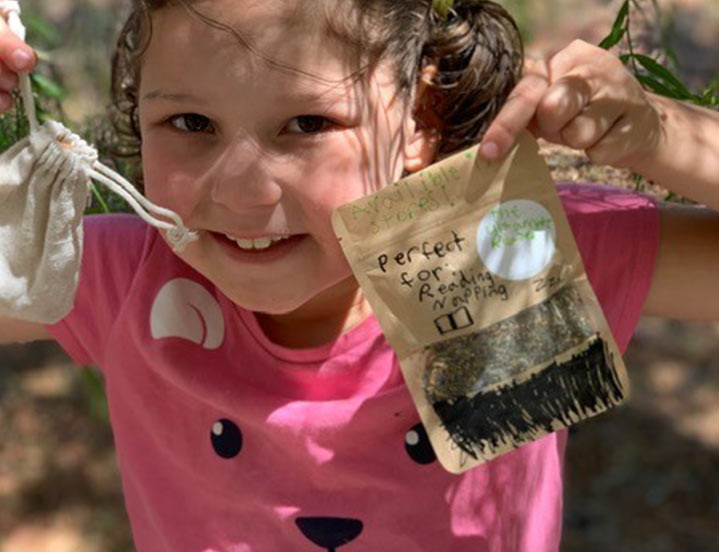 Herbs & Plant Medicine
We teach children the power of plants! Long before we had pharmacies and cold medicine at our fingertips, early physicians used plants to treat ailment and support the body. At Camp SHINE, we are bringing back this tradition by educating our youth on how to use herbs and their unique properties to support our bodies. This program is mainly taught by guest teacher Andrea Telfer Karbo FNP, a functional practitioner and founder of The Remedy.
Nature Inspired Art & Self Expression
We offer nature inspired art projects that allow our kids to express their unique perspective and spirit. These are not your typical "kid art" projects. We believe in using high quality, natural products to create works of art that are inspiring and beautiful. The children have a great sense of pride in their beautiful creations, whether that is whittling our own Native American walking sticks, woodwork with Mr. Cesar (sanding, assembling, and painting our own bird houses), pottery, natural dying and so much more!  We often bring in the expert in their field to teach the children a new skillset they can enjoy for years to come.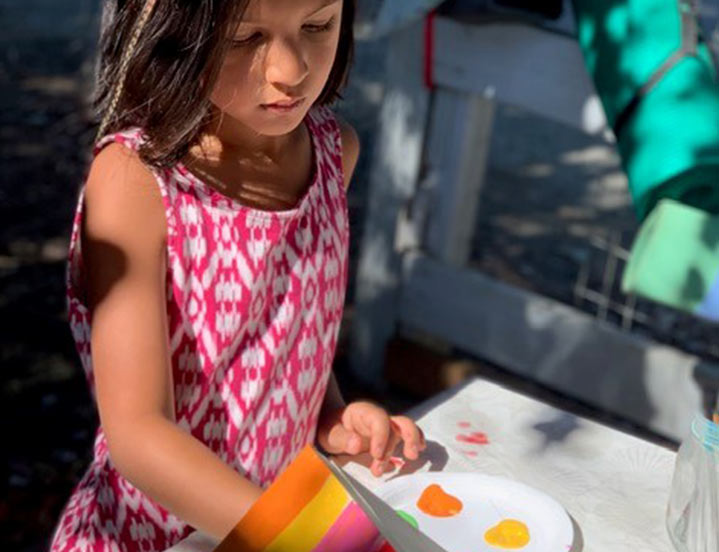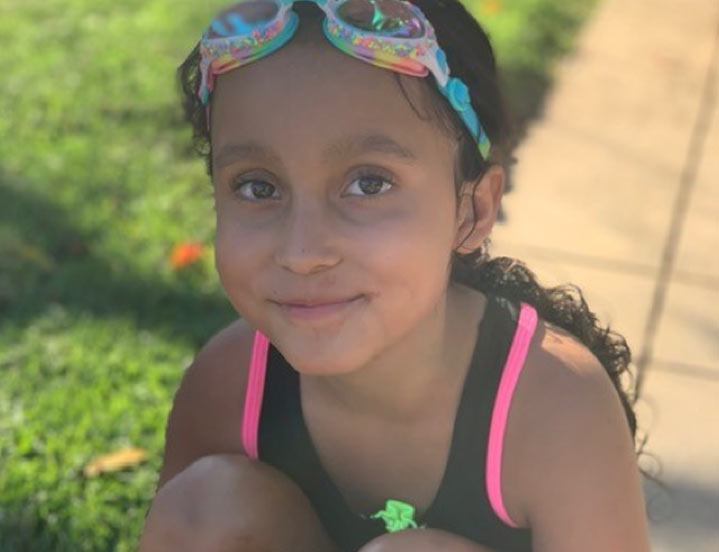 The Pool
Everyone's favorite summertime activity! In the afternoons we take a dip in the private pool that is located at Camp. This is a great way for us to cool off in the afternoons and always refreshes everyone! To ensure safety, we provide a lifeguard who oversees our time spent at the pool.
Horsemanship & Riding
At Camp SHINE the children have a wonderful opportunity to enjoy horsemanship. Through working with horses, children experience being calm and confident leaders.  The kids discover how to watch the body language of a horse and how to be aware of their surroundings, a huge life skill! The children will also learn to groom, tend, and ride the horses. We have 2 horses Marty and Piper who help us learn all about horsemanship!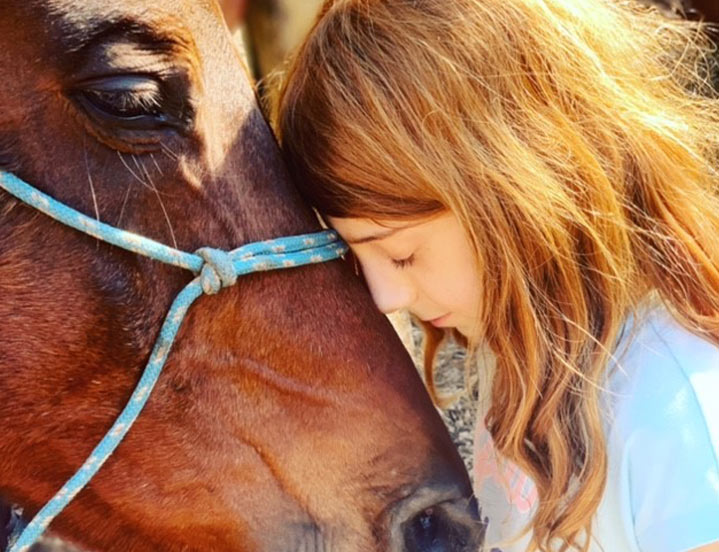 Shine Curriculumn
All while enjoying the great outdoors, we weave in the SHINE Curriculum, teaching the kids the power in their choices. We share with the kids the freedom in self responsibility, self-awareness, and the art of self-counseling. We create a safe and friendly environment for the kids to express themselves. We are dedicated to creating a culture of kindness, where people are celebrated and valued. We instill in the children that they are born special! Our goal is to help create resilient and self-assured children so they can shine as they were born to do!
In addition, the philosophy and the foundation of our program is that it is child lead. Although we have clear activities and plans, we always leave plenty of room for the creative imagination and child lead activities. We are here to light a spark as opposed to filling a bucket!
We also believe that true health stems from a deep connected to nature and realizing our part in our ecosystem. Our mission is to help children take excellent care of our planet and enjoy/appreciate the beauty that surrounds us all.
Camp Shine=A Total experience! This camp is great and my son really enjoyed it. I was initially drawn to the social-emotional aspect of camp as my child has difficulty managing his emotions but this camp also fulfilled his need for outdoors and physical activity. This camp is the perfect balance of SEL, nature, physical activities, and art/creative experiences! My son's favorite parts about camp were the animals and riding a large horse for the first time, something he had previously been scared to do. Thank you for the many wonderful memories made at Camp Shine!
Camp SHINE 
Afternoon Program
Monday-Thursday
2:00pm-5:00pm
1st-5th grade (will accept Kindergarten if they have had some schooling and used to longer days.)
Session 1: CANCELLED
Session 2: May 17th-May 20th
Enrollment:
$275/session
$499/session (2 siblings)
Camp SHINE 
Summer Program
Monday-Thursday
9:30am-3:00pm
1st- 5th grade (will accept Kindergarten if they have had some schooling and used to longer days.)
Session 1: June 7th-10th SOLD OUT
Session 2: June 14th-17th
Session 3: June 21st -24th SOLD OUT
Session 4: July 5th -July 8th
Session 5: July 12th -July 15th
Session 6: July 26th-July 29th SOLD OUT
Session 7: August 2nd-August 5th
Enrollment Fee:
$499/session
$950/2 children (sibling discount)

Once you register for Camp you will receive a welcome letter with all the details of your week at camp! What we will be up to and what the main lesson is for that week.
*Once you are enrolled, we require a 2-week cancellation policy. Should Camp need to be cancelled on our end for any reason you will be refunded. We do not prorate the program or reimburse for missed days.
*Limited financial assistance slots available, please reach out to Stephanie here  for more info.
Circle
9:30-9:45am
The Farm
10:00am – 10:45am
Snack
11:00-11:15
Main Lesson
11:15-1:00pm
Lunch
1:00pm – 1:30pm
Swim
1:30pm – 2:45pm
Games & Closing Circle
2:45pm – 3:00pm
Circle
9:30-9:45am
The Farm
10:00am – 10:45am
Snack
11:00-11:15
Main Lesson
11:15-1:00pm
Lunch
1:00pm – 1:30pm
Swim
1:30pm – 2:45pm
Games & Closing Circle
2:45pm – 3:00pm
Circle
9:30-9:45am
The Farm
10:00am – 10:45am
Snack
11:00-11:15
Main Lesson
11:15-1:00pm
Lunch
1:00pm – 1:30pm
Swim
1:30pm – 2:45pm
Games & Closing Circle
2:45pm – 3:00pm
Circle
9:30-9:45am
The Farm
10:00am – 10:45am
Snack
11:00-11:15
Main Lesson
11:15-1:00pm
Lunch
1:00pm – 1:30pm
Swim
1:30pm – 2:45pm
Games & Closing Circle
2:45pm – 3:00pm
*Each week will consist of 1 day of horseback riding.
Main Lessons (but not limited to):
Herbs + Plant Medicine
Horseback riding
Pottery
Weaving
Wet felting
Painting
Woodworking Projects
Native American Walking Sticks
Apple picking + Harvesting
Hiking + Exploration
Soap making
Biodiverse farming
Natural Dying
***We currently do not have each week assigned but will know closer to the start of summer as we finalize our schedule. You may wait to know what main lessons are assigned to each week; however, spots fill very quickly and to ensure enrollment please reserve ASAP! All our sessions are equally magical, fun, and enriching! ***
My daughter LOVED camp Shine. In times of Isolation, uncertainty and too much time on screens, this is exactly what she needed; being outdoors, making connections, learning about herbs and medicine, being creative, swimming, picking apples, riding horses and so much more. She came home tired but happy every day. Honestly, if I could sign myself up to Camp Shine, I would!
Cameron loved everything about Camp Shine! He loved being able to be close to the animals, I think it was very therapeutic to him. He loved making tea and picking fruit! And he enjoyed having apple pie and lemonade made from fresh picked fruit! He enjoyed bonding with the other Camp Shiners! I especially liked when he came home on the first day and told me about how came home and talked about the comment circle and how he shared positive and you guys about the day! He really had fun and wanted to keep going!
My daughter LOVED CAMP SHINE so much! She met new friends and strengthened existing relationships. She has been making me tea every night with the wonderful tea she made at camp. And she taught me to tap the other night. She loved the animals, swimming, riding the horses…all of it. CAMP SHINE was a very special opportunity for our kids to be outside with nature while learning to honor and take good care of themselves, animals and mother nature. Our family is so grateful to Stephanie, Lauren and the other specialist counselors for such an amazing program!
To be honest, I was hesitant to sign my daughter up for Camp Shine, because of the financial burden COVID has placed on our family. But as a mama of three, the time my daughter spent with Stephanie and her sister, Lauren was such a gift to all of us! I could not have been happier! Stephanie has a true gift for working with children and it shows in the dedication she has in continuing her youth program, Camp Shine despite the limits this pandemic has brought our community. The space the camp was held is truly a magical place, with so many things for the children to engage in. Ivy daughter never wanted to leave, and came home a tired, yet happy child! The amount of stories she had to share were endless each day. It has been such a great way to end summer and prepare for this next journey of schooling that lies ahead of us. Thank you Stephanie for her warm heart, your patience, your playfulness and your dedication!
My daughters had the best time at Camp Shine. My older daughter loved riding the horses and my younger one loved swimming with friends. They both said it was hard to pick a favorite part of camp. "I am really glad I did this because it was super FUN and helpful in real-life situations."
-FEMALE, AGE 13
Frequently Asked Questions
What is your Covid-19 Policy?
Upon arrival we take each child's temperature and ask that masks be worn at drop off and pick up. We request that drop off and pickup be a swift process to avoid crowding on the farm. We also provide hand washing stations and sanitize our materials. Camp SHINE is 100% outdoor program. We ask that you stay home if your child is feeling ill.
Is Camp SHINE for boys and girls?
YES! Camp is for everyone! In fact, my own sons 7- and 11-year-old… LOVE camp!
What is the location of CAMP SHINE?
We are in the hills of Martinez, CA at a private farm. Once you register for camp you will be provided further directions and info about our location.
Does my child need to know how to swim to come to Camp SHINE?
No, however they will be required to wear a lifejacket the entire time we are near the pool, which is a separate area from the rest of camp. We also provide a lifeguard in addition to our Camp Counselors who oversee the pool time. We take pool safety very seriously.
Can my kindergartener come to Camp SHINE?
We will accept Kindergarteners if they have experienced some school and are used to longer days or if they have a sibling in the program.
Camp SHINE is a long day, do the kids get tired?
Great question! We provide times in the day that are naturally quieter. Hammocks to rock in and quiet spaces to relax. We teach the kids to honor what they need and help them find ways to take good care of themselves. Since we are 100% outdoors, we find that kids are not as overstimulated as they might be in a classroom with bright lights and objects all around them. They tend to not have melt downs or feel overwhelmed. This is the beauty of being outside. Many parents report that their child's behavior at home improves after their time at camp…however we make no official claim to that! 😊
If I cannot make a day of Camp, do I get reimbursed?
Unfortunately, no we do not prorate the program. We look at the program as a whole and not a per day basis. We do not reimburse for missed days.
How do you handle horse safety and riding?
We do our best to create a safe environment, however it is important to note, that all animals are unpredictable. We mitigate risk by teaching the children about horses' safety and how to create an environment that is safe for ourselves and the horse. When your child interacts with the horse it is supervised and 1 to 1.
Do you have Camp SHINE for adults?
We get this question all the time 😊. Coming soon because us adults need CAMP SHINE too!
This program is led by Stephanie Marie Telfer, The founder of Camp SHINE. Stephanie has studied many healing modalities, including becoming a certified yoga instructor in 2010 and receiving her master's degree in Spiritual Psychology in 2015.
THE SHINE PROGRAM WAS BORN OUT OF HER LOVE OF CHILDREN! AS A YOUNG GIRL STEPHANIE STRUGGLED IN SCHOOL, DEVELOPED A POOR SELF ESTEEM AND BATTLED WITH ANXIETY MOST OF HER YOUNG ADULT LIFE. SHE REALIZED…
WHAT IF I COULD TEACH KIDS WHAT I KNOW NOW…?
WHAT IF I CREATED A LIFE CHANGING ENVIROMENT FOR KIDS TO TRULY SHINE! ONE THAT PROMOTED SELF CONFIDENCE, DEEP CONNECTION TO THE BEAUTY THAT SURROUNDS US THOUGH NATURE AND THE REALIZATION THAT EVERY CHILD IS UNIQUE AND SPECIAL.What merely started as a yoga + Emotional Freedom Technique class that was held at The Remedy, a wellness center she co-founder with her sister Andrea Telfer Karbo FNP, bloomed into CAMP SHINE! She decided why not weaves in the SHINE curriculum in the great outdoors, a perfect marriage, and the recipe for successful children! She is now on a mission to help kids reconnect with nature in a deeper way, have a strong sense of self and to honor their individuality! Stephanie is dedicated to helping kids SHINE just as they were born to do!
Stephanie lives in Martinez, Ca. She is married to a wonderful man, Cesar and has two young boys, Jackson and Noah. She loves being outside and is the happiest when her toes are in the sand.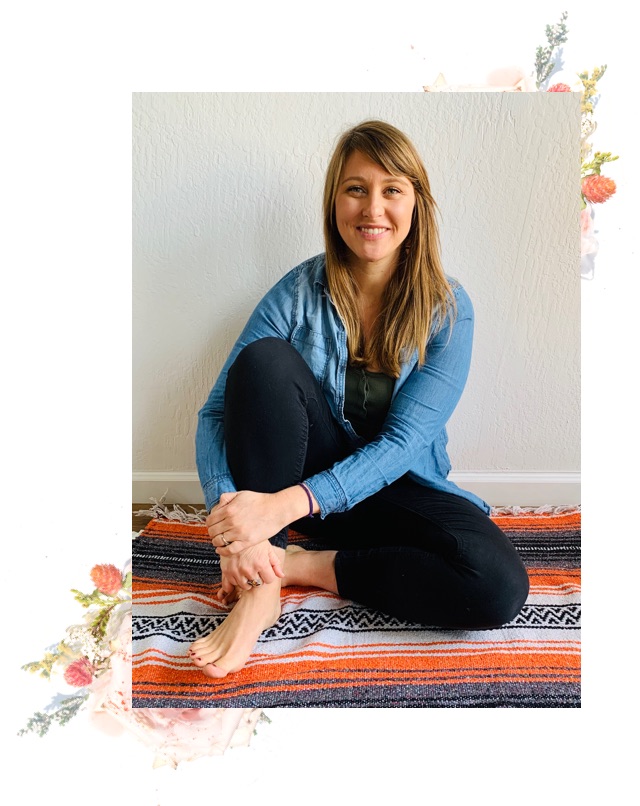 This error message is only visible to WordPress admins
There has been a problem with your Instagram Feed.